Case Study
Expanding with Steady Retail Revenue Growth
Case Study
Fresh Foods company expands and diversifies, with consistent revenue growth in retail.
Fresh Foods company grows Revenue and Widens customer base - Established in 2010, a fresh foods company started as a small cafe and has since grown into a multi-location business with a diverse range of offerings with a consistent revenue stream in the retail channel.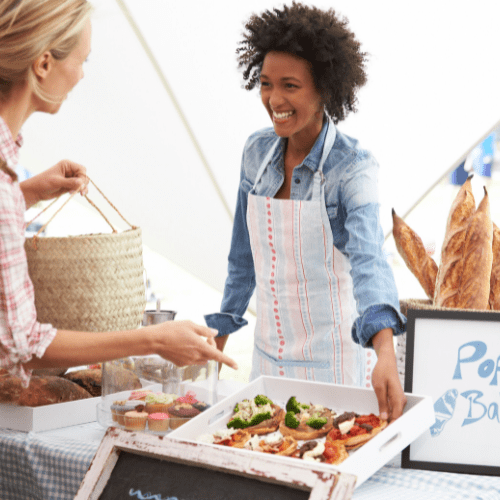 Situation
Saturation - The food and beverage industry for fresh organic foods is saturated with numerous cafes and producers of primary food categories, which were competing for customer attention

Limited Brand Awareness - Despite local popularity, the food producer faced challenges in establishing a strong brand presence beyond its immediate vicinity.

Season Fluctuations - Revenues exhibited seasonal variations, with higher sales in certain months and slower business during off-peak periods which created cash flow challenges and difficulty with forecasting.
Challenge & Solution
Saturation: The fresh organic foods sector is crowded with cafes and primary food producers, leading to intense competition for customer attention.

Limited Brand Awareness: Despite local popularity, the company struggles to establish a robust brand presence beyond its immediate area. Seasonal Fluctuations: The business experiences revenue fluctuations due to seasonal variations, causing cash flow challenges and hindering accurate forecasting.

SOLUTION:

Online Presence and Delivery Services: To tackle limited brand awareness, the company invests in a user-friendly website, mobile app, and social media marketing to enhance customer education and enable online ordering.

Loyalty Program and Customer Engagement: The company introduces a loyalty program offering discounts and exclusive deals to repeat customers. Social media platforms are utilized to share exclusive content, nutritional tips, and foster interactive community forums.
Impact
Revenue Growth: The implemented strategies lead to a notable 35% revenue increase over two years. This growth is attributed to improved customer engagement, enhanced brand awareness, and an expanded menu.

Increased Customer Base: The introduction of online services expands the customer base. The website, app, and social media platforms contribute to 20% of total orders, attracting a younger demographic to digital platforms.

Enhanced Brand Recognition: Through active engagement on social media and loyalty programs, the company elevates its brand recognition, witnessing a 50% growth in its online following.

Mitigated Seasonal Fluctuations: By organizing themed promotions and events during off-peak seasons, the company minimizes the impact of seasonal fluctuations. This effort results in a 15% increase in sales during winter months.
SALES + MARKETING EXECUTIVE ADVISORS
OUR POWERHOUSE TEAM TRANSFORMS REVENUE TRAJECTORIES
Our team is a powerhouse of experts who work together seamlessly to transform revenue trajectories. We trust each other to deliver outstanding results, and our combined experience and expertise have created a force for positive change that goes beyond just a group of individuals.