Welcome to the dawn of a new era in the call center world. In this fast-paced and ever-evolving landscape, the traditional role of agents is undergoing a remarkable shift.
Employee transformation is driven by the recognition that the heart of exceptional customer service lies in the skills, knowledge, and engagement of the workforce. Let's explore the journey of employee transformation and discover the key ingredients that shape the future of call center excellence.
Agent - AI Model
Artificial intelligence is not going to replace agents in the call center world anytime soon. While comfortable with AI technology, 82% of US consumers and 74% of non-US consumers want more live agent interactions in the future.
AI is best used to work in tandem with Agents and complement their abilities. By automating mundane tasks, AI, especially conversational AI, liberates Agents by allowing them to focus on more challenging and fulfilling aspects of customer service. In fact, 60% of agents say that AI helps them save time, while over half said that it made their jobs easier.
Next Level Agent Training and Development
Considering the fast pace at which call centers are evolving these days, the importance of thoroughly training your Agents cannot be overstated. With the advent of new technologies, the rise of social media, the prevalence of digital communication channels, and the integration of AI, the call center environment has changed dramatically. Today's Agent must:
Embrace new technologies
Master social media and digital communication
Adapt to customer preferences
Harness the power of AI
Learn the power of empathy
Continually learn and improve
Organizations that strategically invest in employee training and development see 11% more profitability. Furthermore, CX professionals trained in empathy are almost twice as likely to be high performers, and 79% of employees who had a formal training and development program were more engaged.
Work-From-Home Agents
In the wake of unprecedented global events, remote work has become a reality for the call center industry. In fact, 85% of customer service Agents wish to remain at home full-time and not return to the contact center. This raises many questions, such as:
How do you train your Agents?
How do you track performance?
How will they learn from collaboration and communication?
How will it affect the customer experience?
However, call centers have seen many benefits of the work-from-home model. They include cost savings, increased job satisfaction, and expanded talent pool.
Agent Experience Strategies
In the call center industry, it's a sad reality that high attrition rates and the accompanying expenses are seen as an unavoidable part of the CX landscape. BPOs have treated employees as mere temporary placeholders, easily replaceable, and assumed that constant recruiting and onboarding were just a necessary evil in the contact center world. The fact is, 96% of CX leaders say recruiting is one of their biggest challenges, while 62% are struggling with recruitment costs.
It's time to challenge this mindset and shake things up a bit. Because when you invest in your employees and create an environment where they feel valued and supported, you'll be amazed at the impact it has on your customer service and overall success.
Now, let's take a look at nine factors that McKinsey research has identified as critical to drive a positive employee experience.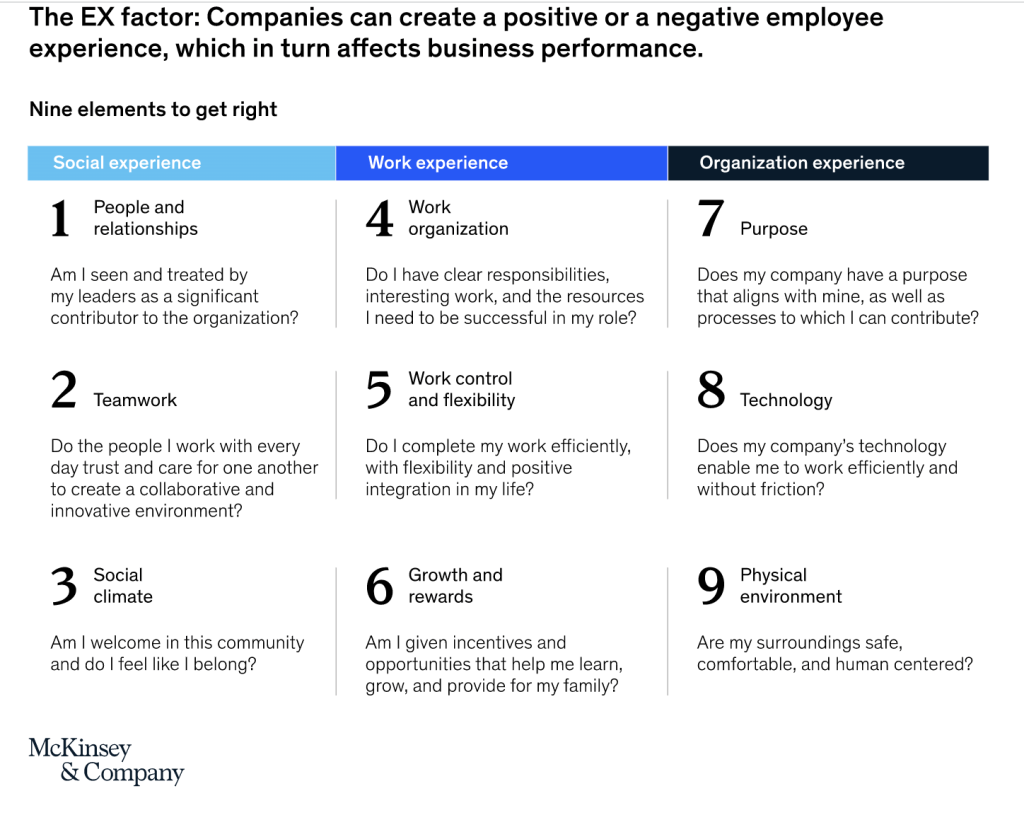 Winning Formula
In the realm of the future call center, staying attuned to trends and technology is key. But amidst the waves of CX trends and new innovation, we can't forget the power of the human touch. Like skilled therapists, call center Agents should bring empathy, warmth, and personal connections that no AI can replicate. So, let the technology do the heavy lifting, but always remember the magic lies in the hands of the human agents.